We make fiberglass sugar kettles (some folks call them syrup kettles) as well as our copper
fountains. We started making the Louisiana style kettles so that we could have a
good quality container to use with our water garden fountains.
When we designed the patterns for these water garden container features we copied the soft curves
of the real old Louisiana style sugar kettles and did everything we could to make them the best.
This is our small 45" model with a Will Five fountain.
There is a nice texture on the sides and a thick rim.
Louisiana Style Fiberglass
Sugar or Syrup Kettles
Made Right Here in South Louisiana just short of
Baton Rouge and 45 minutes north of New Orleans
The edges are rounded over with all sanding marks underneath where
they cannot be seen. The edges are very thick.
We also texture the outside of the sugar kettle so that the fiberglass
strands are very difficult to see.
Most people have to tap hard on the rim to realize that these
Louisiana style fiberglass sugar kettles are not cast iron.
We make them in three sizes:
45 inch
sugar
kettle for
$400
56 inch syrup
kettle for
$500
65 inch
sugar
kettle for
$700
All of these have flat bottoms, all are textured
and all have nice thick rims.
If you're looking for fiberglass sugar kettles for sale here
in Louisiana or you want us to ship to you;
you've found the right place.
Just call or email us for more information or to order.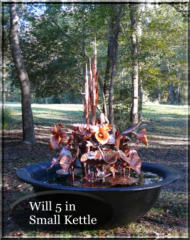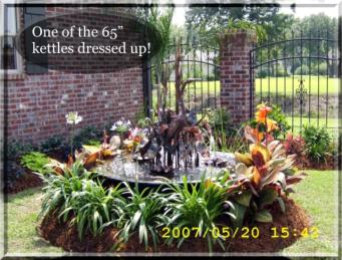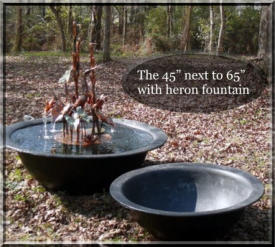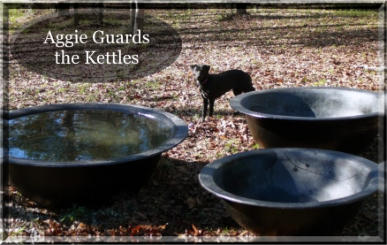 Shipping is charged only at cost. If you purchase a copper fountain with the kettle you can save some
on shipping as the two pieces will be treated as one by the freight company.
Buy Now and Start Enjoying
a More Beautiful Yard!
Keep this ol' boy busy!
Sugar kettles make great planters, stand alone water features or as an excellent
container for a copper fountain.
They add a little Southern charm to your landscaping.
You can Hop around the main pages on my site by clicking pictures below.